Hallo Bay Bear Camp
John's Salmonectomy!
Kevin Harris © Hallo Bay Bear Camp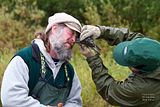 John, after having taught all the bears to fish so efficiently; the salmon finally took their revenge and attacked. Thankfully Larry was on hand to perform a Salmonectomy! It was touch and go and after some excruciating pain John threatened Larry that if he didn't get this darn thing off his nose soon, he was gonna pop the flare. Relief finally comes and Larry successfully completes another Salmonectomy, unfortunately this salmon behavior is becoming all too common these days and I'm sure in the near future measures will need to be taken to further help protect the guides.

*smiling*

John is back in Homer and is expected to make a full recovery.