November Daily Weather Report
Hallo Bay * Homer

HALLO BAY
Weather Conditions: AM Sunny, PM scattered snow showers, Highs 5F to 10F above (-15c to -12.22c) except 15F to 25F (-9.44c to -3.89c) along the western CAPES and Alaska Peninsula. NW wind 10 to 20 mph
Actual Sunrise: 9:20 AM AKST
Actual Sunset: 4:50 PM AKST
Civil Twilight Sunrise: 8:31 AM
Civil Twilight Sunset: 5:39 PM
Moon Rise: 10.08 AM
Moon Set: 3:58 PM

HOMER
Weather Conditions: Mostly sunny, isolated snow showers S of Clam Gulch
Visibility: 10 miles
Ceiling: Unlimited
Wind: Light
Wind Gusts: NE 10 to 25 mph around Kachemak Bay
Predicted Temps: Highs 10F to 25F above (-12.22c to -3.89c)
Lows 5F below to 15F above (-20.56c to -9.44c)
Barometric Pressure: 29.40 Rising
Humidity: 61%


Homer Webcams


Actual Sunrise: 9:05 AM AKST
Actual Sunset: 4:35 PM AKST
Civil Twilight Sunrise: 8:16 AM
Civil Twilight Sunset: 5:24 PM
Moon Rise: 9:53 AM
Moon Set: 3:41 PM
NEW MOON: Waning Crescent, 0% of Moon illuminated
Length of Visible Daylight:

9h 07m


Length of Day: 7h 29m
Tomorrow will be 4m 27s shorter
Have a Safe Day!


This date in Alaska History

: November 16, 1973 -
Congress passed the Trans-Alaska Pipeline Authorization Act, which cleared the way for construction of an oil pipeline from Prudhoe Bay to Valdez.


Aurora Forecast

: Quiet (1)


Meteor Showers

: November


>

Leonids, Nov 17-18, 25/50 hrly, S/SE 4 to 6AM, Very swift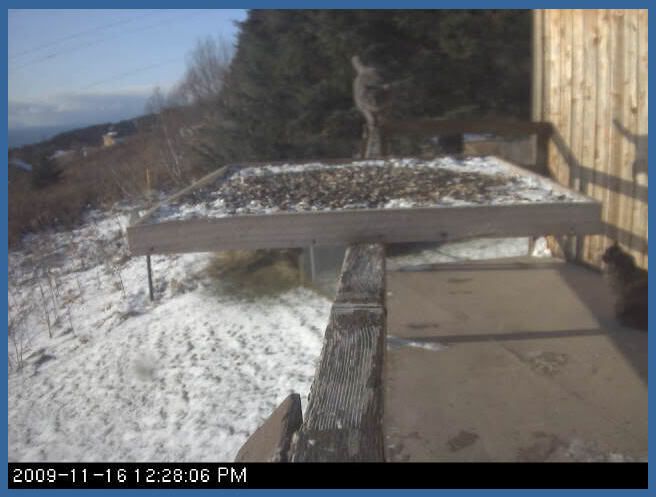 A little kitty-exercise!
Was sitting in the middle of the bird feeder
You have to watch the webcam
to see all the latest news!