Hallo Bay Bear Camp
Bear Fishing - Coming Up For Air!

Brad Garasky © Hallo Bay Bear Camp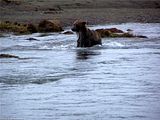 Field Notes by Brad:
Bears are ready to fish! Lots of pushing, shoving, and chasing going on with everyone trying to sort out who's fishing hole is whose and the order they get to fish in.

Even have a wolf thats been getting in on the action and catching some fish out of creek and pursuing bears in hopes of any scraps getting dropped.